Celebrating 19 Years of Service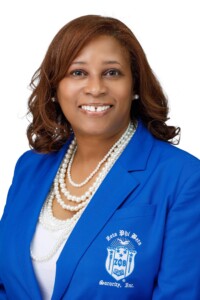 Welcome to the Tau Psi Zeta Chapter of Zeta Phi Beta Sorority Incorporated,
Zeta Phi Beta Sorority, Incorporated is a Community-Conscious, Action-Oriented organization committed to providing service and programming designed to demonstrate concern for the human condition both nationally and internationally. Through our Zetas Helping Other People Excel (Z-HOPE) National partnerships with numerous organizations such as the March of Dimes, St. Jude and the American Cancer Society, Zeta is proud of our legacy and reputation as a premier service organization.
The 200+ members of Tau Psi Zeta Chapter strive at all times to uphold and exhibit our Founding Principles of Scholarship, Service, Sisterhood and FINER Womanhood, in a manner that honors our Founders and uplifts our communities. Since 2004, TPZ has been dedicated to serving and supporting our home community of Alsip, Illinois, specifically, and the surrounding Chicagoland area, in general. Our local partnerships with the Sertoma Centre in Alsip, Illinois, the #EveryWomanProject, and Victory Center, among many others, demonstrate that Service is what we do here in The Pearl Zone!
Tau Psi Zeta believes in the power of unity and collaborates with individuals and organizations to meet the needs of all people without boundaries. If you are interested in partnering with us on a program, please contact us at taupsizeta@yahoo.com.
Additionally, if you are a member of our Sisterhood and are new to the area permanently or just visiting family and friends for a short period, please join us at one of our activities or chapter meetings. We welcome you with open arms.
Thank you for visiting our website, please bookmark our site as a favorite and visit us often to stay informed on service projects, upcoming chapter events, scholarships, and more.
Again, thank you for stopping by TPZ, where we exhibit Sisterhood at its Finest!
We hope to see you soon.
Peace & blessings,
Shannon Blackburn
Chapter President
Tau Psi Zeta Chapter - Zeta Phi Beta Sorority, Inc.